2011- Alain Charlton
Du 10 septembre au 6 novembre 2011
Commissaire de l'exposition : Frère Marc Chauveau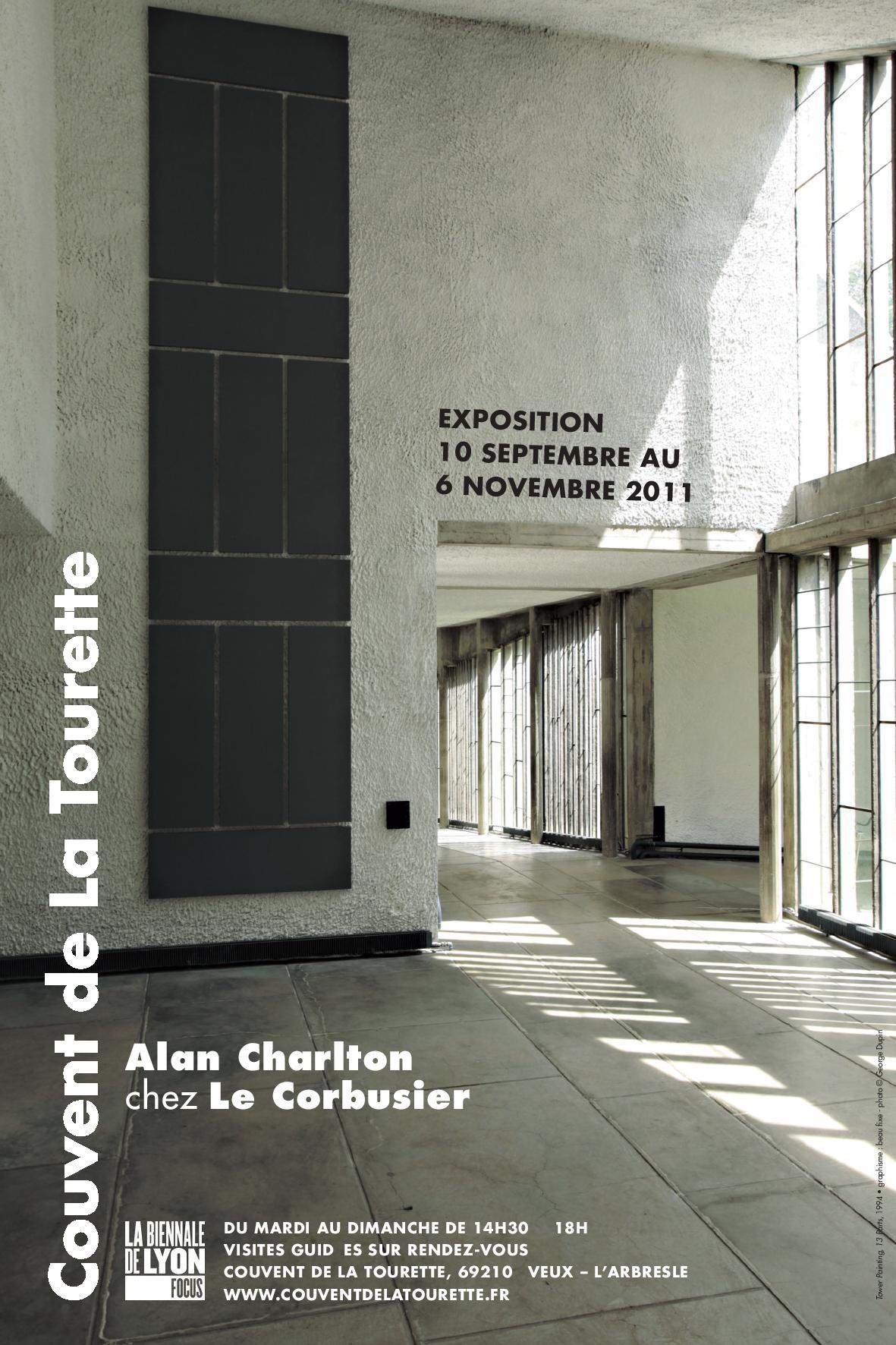 Après François Morellet en 2009 et Vera Molnar, Stéphane Couturier et Ian Tyson en 2010, c'est Alan Charlton qui est retenu en 2011. L'artiste choisit parmi ses œuvres celles qui lui semblent les plus justes pour entrer en résonance avec l'architecture de Le Corbusier et les rythmes des pans de verre ondulatoires de Xenakis. La matérialité discrète des peintures de Charlton, aux subtiles nuances de gris, s'adapte à merveille à la qualité exceptionnelle des espaces. Cette rencontre entre l'architecture lumineuse et la peinture monochrome crée une étrange forme de présence, instillant « une émotion qui laisse place au silence ».
---
After François Morellet in 2009 and Vera Molnar, Stéphane Couturier and Ian Tyson in 2010, Alan Charlton has been selected for 2011. The artist chooses among his works those that seem to him the most appropriate to resonate with the architecture of Le Corbusier and the rhythms of the undulating glass panels of Xenakis. The discreet materiality of Charlton's paintings, with their subtle shades of gray, is perfectly suited to the exceptional quality of the spaces. This encounter between luminous architecture and monochrome painting creates a strange form of presence, instilling "an emotion that leaves room for silence.
MODULATIONS EXPO ALAN CHARLTON ET REGARD CONTEMPORAIN DE GEORGE DUPIN
En résidence au couvent de La Tourette, œuvre majeure de Le Corbusier, le photographe George Dupin livre un ensemble de clichés inédits, fruit d'une traversée personnelle du couvent. Disciple de Lucien Hervé (photographe aux côtés de Le Corbusier), George Dupin propose une vision du couvent dévoilant vues d'ensemble et détails originaux (mobilier, atrium, couloirs…).
A cette occasion également, les œuvres d'Alan Charlton, artiste invité à La Tourette, sont exposées dans le couvent, dans le cadre de la Biennale d'art contemporain de Lyon qui se déroule du 10 septembre au 18 novembre 2011. Un dialogue silencieux s'établit entre l'œuvre de l'architecte et celle de l'artiste.
Textes de Damien Sausset, Georges Dupin, Thierry Raspail, Marc Chauveau.
In residence at the convent of La Tourette, a major work of Le Corbusier, the photographer George Dupin delivers a set of unpublished photographs, the result of a personal journey through the convent. A disciple of Lucien Hervé (a photographer who worked with Le Corbusier), George Dupin offers a vision of the convent, revealing overall views and original details (furniture, atrium, corridors...).
Also on this occasion, the works of Alan Charlton, an artist invited to La Tourette, are exhibited in the convent, as part of the Biennial of Contemporary Art in Lyon, which runs from September 10 to November 18, 2011. A silent dialogue is established between the work of the architect and the artist.
Texts by Damien Sausset, Georges Dupin, Thierry Raspail, Marc Chauveau.